Free Application with in-app purchases
Windows version compatible with Windows Vista, 7, 8, 10
Mac OSX version (available in March 2017)
Vector formats: SVG, XAML, PDF, EPS, PS
Bitmap formats PNG, BMP, JPG, ICO, ICNS and Image Strips.
Uses a database of professionally-made vector icons
Icons can be customized with overlays and colorized
3 icon licenses: Free, Free with limitations, full commercial.
Automatic free updates of icons and application.
Home > Products > Axialis IconGenerator
Axialis IconGenerator
Axialis IconGenerator is an icon production tool for professional developers, UI designers and illustrators. It lets you create icons in almost all existing formats, vectors and bitmaps, from a large database of icon sets made by professional graphic designers.
The database, which is automatically updated via Internet, contains a large variety of icons in vector format. Using IconGenerator, you can search and select the icons you need, customize them and create files for your projects in vector or bitmap formats. Various icon sets are provided with different styles and specifications.

Quick Overview
Generating icons takes only a few seconds: First choose an icon set, then select icons and overlays, optionally customize them and generate the icon files in one batch operation (Learn More).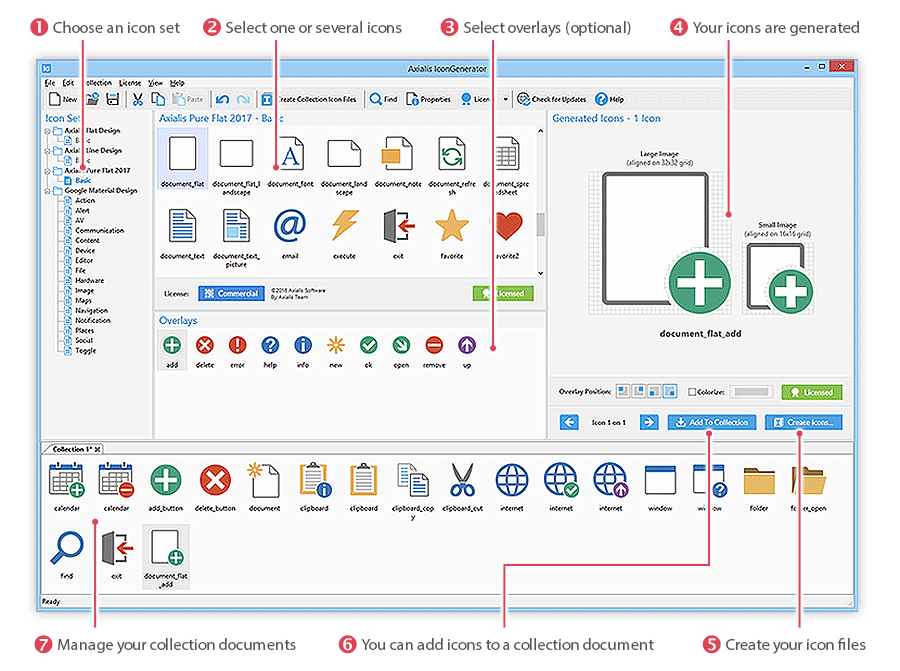 Generate Vector & Bitmap Icons
Generate all formats of vector and bitmap icons in minutes. Supported vector formats are SVG, XAML, PDF, EPS, PS. You can also generate bitmap images at all standard and custom sizes in PNG, BMP, JPEG. Windows ICO and Mac ICNS formats are also supported (Learn More).

Customize Icons With Overlays
Various overlay images are provided in each icon set. They let you illustrate actions or states associated to an icon such as "add", "remove", "edit" etc. Using IconGenerator you can apply overlays to an icon in a few clicks:









Overlays can be placed at 4 different positions:








Colorize Icons
Colorizing icons can be useful to enhance their visibility (on a dark background for example) or to be consistent with a user interface theme. Depending of the icon set style, two colorization modes are available: monochrome or shaded.
In Monochrome Colorization mode, the whole icon is colorized with a unique color which is exactly the one you selected. Dark or medium colors are replaced. White and light colors are set to transparent. See below how Axialis Flat Pro 2017 is colorized:











In Shaded Colorization mode, the icon is colorized keeping the original shades of grey. This applies to icons using shaded colors without borders or outlines. See below how "Axialis Flat Design" is colorized:









Pixel-perfect Icon Sets
For pixel-perfect results, icons are aligned on a fixed grid. This avoids blurry lines when rendering icons at small sizes.
Most of icon sets, designed for use in general projects, contain only one alignment grid. For example, Axialis Line Design icons are aligned on a 21x21 grid:








For use in Ribbons or Toolbars, some sets contain 2 different grids for large and small icons. For example, Axialis Flat Pro 2017 contains icons aligned on 16x16 and 32x32 grids:










The generated icons give a pixel-perfect result in ribbon-based user interfaces:

3 Different Icon Set Licenses
Axialis IconGenerator has a free license. You can download, install and use all its features freely without limit of time.
Icon sets have 3 different licenses types: Open Source (totally free), Common Creative (Free, Limited with Attribution) and Commercial (must be purchased).
Open Source License
Icon sets with Open Source license (for example "Google Material Icons") are totally free to use in commercial and personal projects.
Axialis Commercial License
Icons sets with Axialis Commercial License (for example "Axialis Flat Design") must be purchased to be used without restriction in commercial and personal projects.
Our license is Lifetime, which means that you purchase each set once and get all future updates for free without limit of time or quantity.
With this license YOU CAN:
Create SVG, XAML, EPS, PS, PDF vector versions
Create PNG, BMP, JPG, ICO, Mac ICNS bitmap versions at all sizes
Use the icon in commercial applications or websites without linking or giving credits to us
Get free updates without limit of time (Axialis Lifetime License)
Read more about Axialis Commercial License
Free, Limited, Attribution License (CC BY-ND 4.0)
Icons sets with Commercial License can be used freely in commercial and personal projects. However, only limited versions of the icons can be used and we require a copyright notice and a link to our website.
With this license YOU CAN:
Use the icons at native size (scale 1x) in bitmap format
Use the icons for any purpose, even commercially
YOU MUST:
Give credits to us "Icons courtesy of Axialis Software" with a link to "http://www.axialis.com".
Keep the derivatives. If you remix, transform, or build upon the icons, you may not distribute the modified icons
Read more about Axialis free license
Read more about CC Attribution-NoDerivatives 4.0 International
Version 1.01 - English - 7.96 Mb
for Windows x32 and x64

Version 1.0 - English
Available Soon!