Pack reserved for registered customers - Trial pack available
This pack is reserved for registered customers. A valid product key (either Personal or Corporate editions of IconWorkshop) is required to download the full version containing all the objects (500 objects).
If you are not registered, you can download the Trial Pack which contains a limited number of objects (62 objects). Using this pack you'll be able to create a few high-quality sample icons. You need the Tryout Version of Axialis IconWorkshop in order to use this pack.
Description
Axialis Object Pack #2 is a collection of 500 hi-res objects (read more about objects) which have been designed to create icons in the style of Windows Vista™. By using drag & drop in AxialisIconWorkshop you can easily create icons featuring various shapes, symbols, colors, shadows, inner lights, glossy effects.
Using this pack you can easily create beautiful sets of buttons to be used in your projects (websites, application GUI, toolbars, dialog boxes...). With 156 symbols included and many shape effects (circle, octagon, square, triangle) you can create a large variety of icons. Additionally, IconWorkshop permits you to create images at several sizes and color depth (16, 256, RGBA with alpha channel). To permit you to work faster, more than 780 ready-to-use derived symbols have been added to the pack, including effects like black emboss, black glossy, white emboss and white plastic. A blank version of the symbol set has been also added to permit you to create your own effects usinh Photoshop® or any image editor.
Below is an example of icon set which can be done in a few minutes using this pack:

The objects are provided in 256x256 PNG format with alpha channel. This high resolution permits to create icons from 256x256 to 16x16 without quality loss. Axialis IconWorkshop permits to create icons containing various sizes for Windows®, Windows Vista™ & MacOS®. The icons can also be saved as optimized GIF, JPEG or PNG images for inclusion in your websites.
What is an object and how to create icons from objects?
An object is a simple graphical object provided in 256x256 high resolution. Objects also contain an alpha channel which permits to create interesting effects like semi-transparency, lighning, outer or inner glow, shadows...
An object usually contains one part of the drawing witch cannot be used alone. You need to combine several objects together in order to create the final artwork. This can be done very easily by simple mouse drag & drops in Axialis products.
For example, to create the "Clock" icon (bottom-left of the above image), you just have to combine 5 objects:

When the first image format is done (usually you start by creating the largest one 256x256) you can add the other formats in seconds using IconWorkshop. Just save as ICO for Windows® or ICNS for Macintosh®. If you use IconWorkshop 6.0 or more, you'll be also able to save as ICO with embedded PNG compression for Vista™.
Here is a scale 1:1 snapshot of the resulting icon containing various images from 256x256 to 16x16: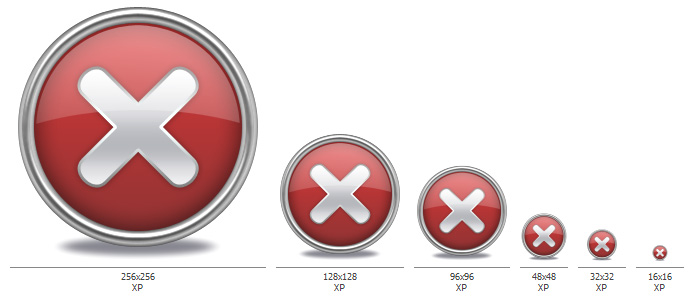 You can test the icon on your computer by downloading one of these versions (right-click, choose "Save Target As"):

icon-vista.ico (170 KB - 256x256 to 16x16 formats - compressed for Windows Vista™ - XP compatible )

icon-xp.ico (25 KB - 48x48 to 16x16 formats - standard Windows® XP compatibility)

icon-xp-ex.ico (281 KB - 256x256 to 16x16 formats - no compression - XP compatible)

icon-mac.bin (65 KB - 128x128 to 16x16 formats - MacBinary format - MacOS X compatible)
To get more information about objects, icons and icon creation, visit the links below:
What's new in Windows Vista™ icons?
How to use Image Objects to create Icons?
How to download and install the Package?
The Image Objects are distributed in a self-install package. Just download the file by clicking the "Download Now" button. It is an executable file (EXE) so you may be prompted by Windows® or any other antivirus application to confirm the download and execution of the file. Click "YES".
Installing packages downloaded from Internet is potentially dangerous.

Install packages that you download on Internet may contain viruses. However your security is our priority and all our files are digitally signed and periodically tested against all known viruses. Also, if you have an Antivirus software installed, the file will be automatically checked before it is launched.
When downloaded, launch the installation and follow the procedure. When done, the objects are installed in the "Axialis Librarian" folder. If an associated application is installed it is launched.
Contents of the pack
Below are listed all the objects included in the pack. Some objects are available in various colors, others in one color only. It's not a problem since an unlimited variety of color versions can be created for each object by its adjusting Hue/Saturation. You can even create your own object versions. Here are samples of icons you can create with this pack: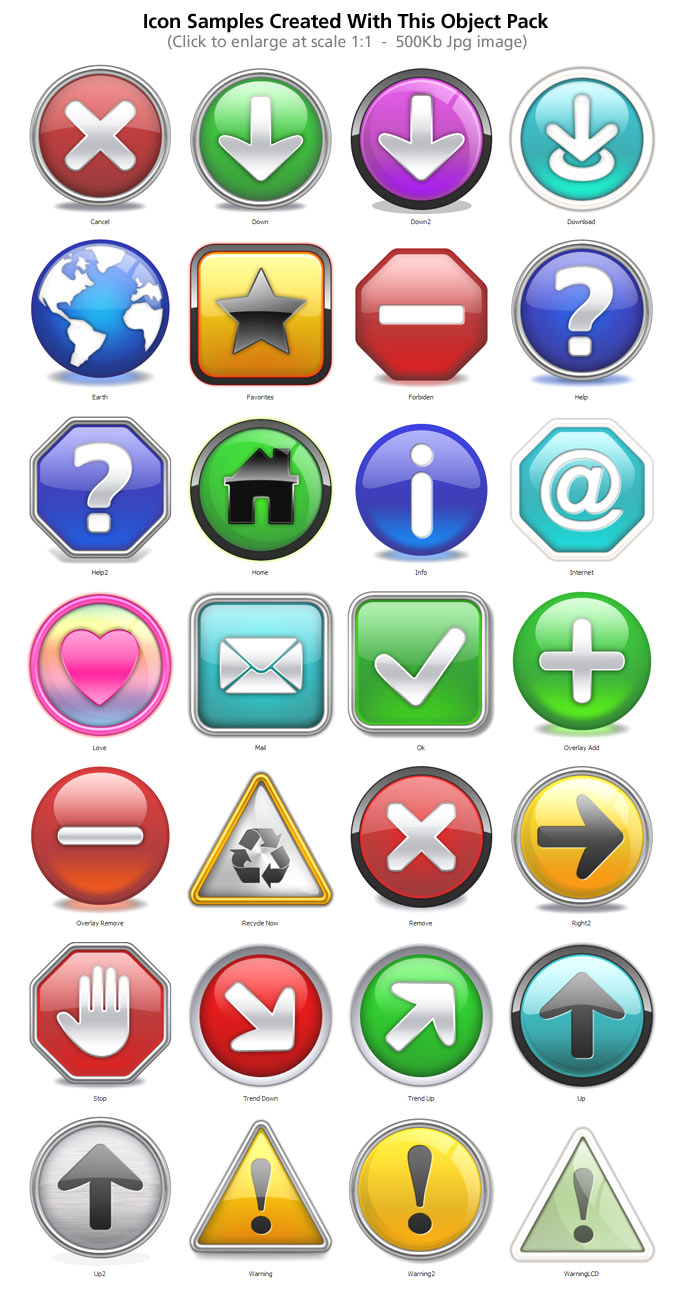 Objects are drawn on a gray background to show the various lightning effects available (which would not be visible on a white background).
Symbols (156 Objects):

Derived Symbols (5 x 156 objects):
For each symbol, 4 derived versions are available: Black Emboss, Black Glossy, White Emboss and White Plastic. An additional set composed of blank objects (white and without shadows) has been added to permit you to create your own effects in Photoshop or any other image editor. See below all the derived symbols (click on thumbnail images to enlarge):
Circle (78 Objects):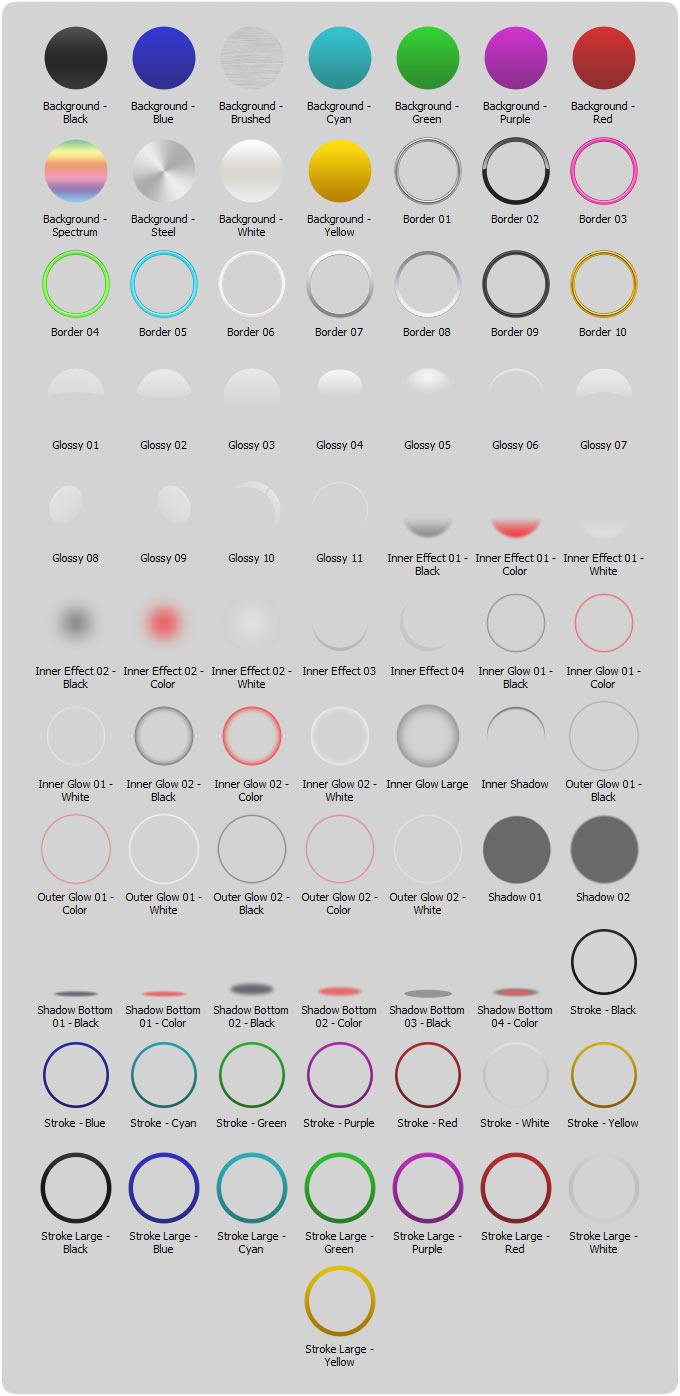 Octagon (78 Objects):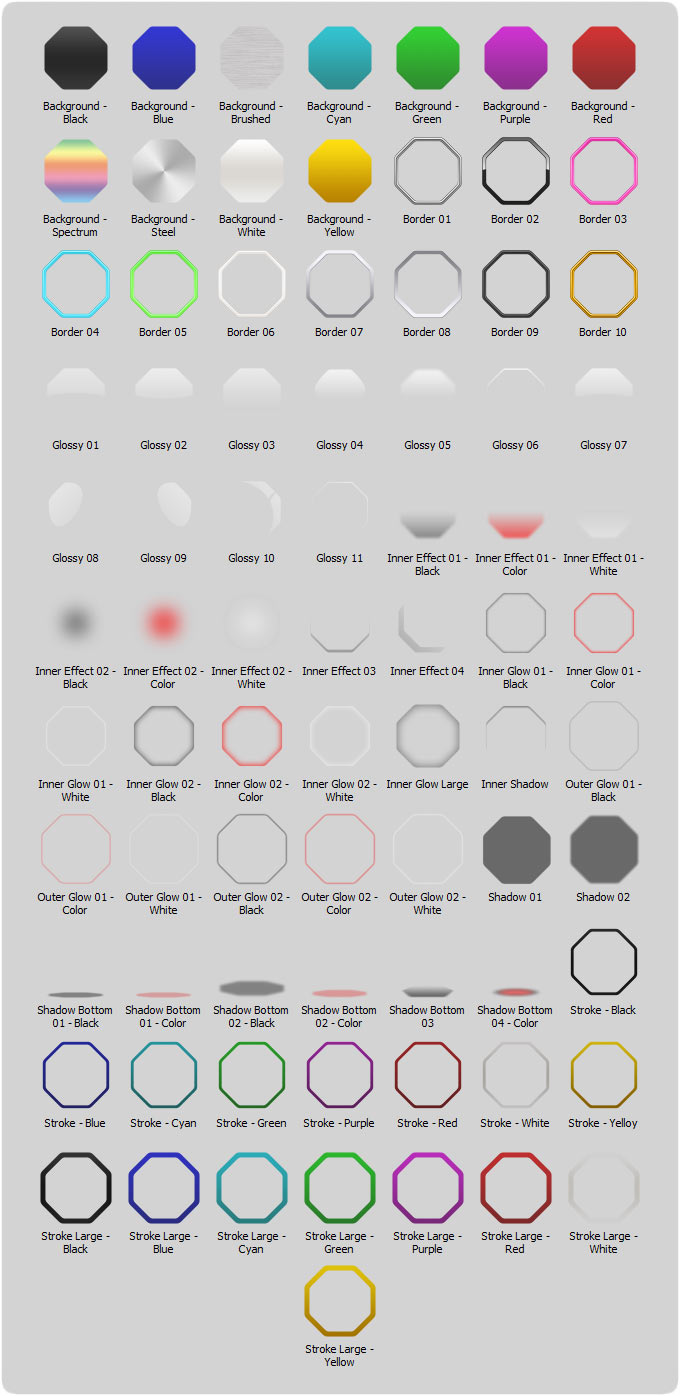 Rounded Square (78 Objects):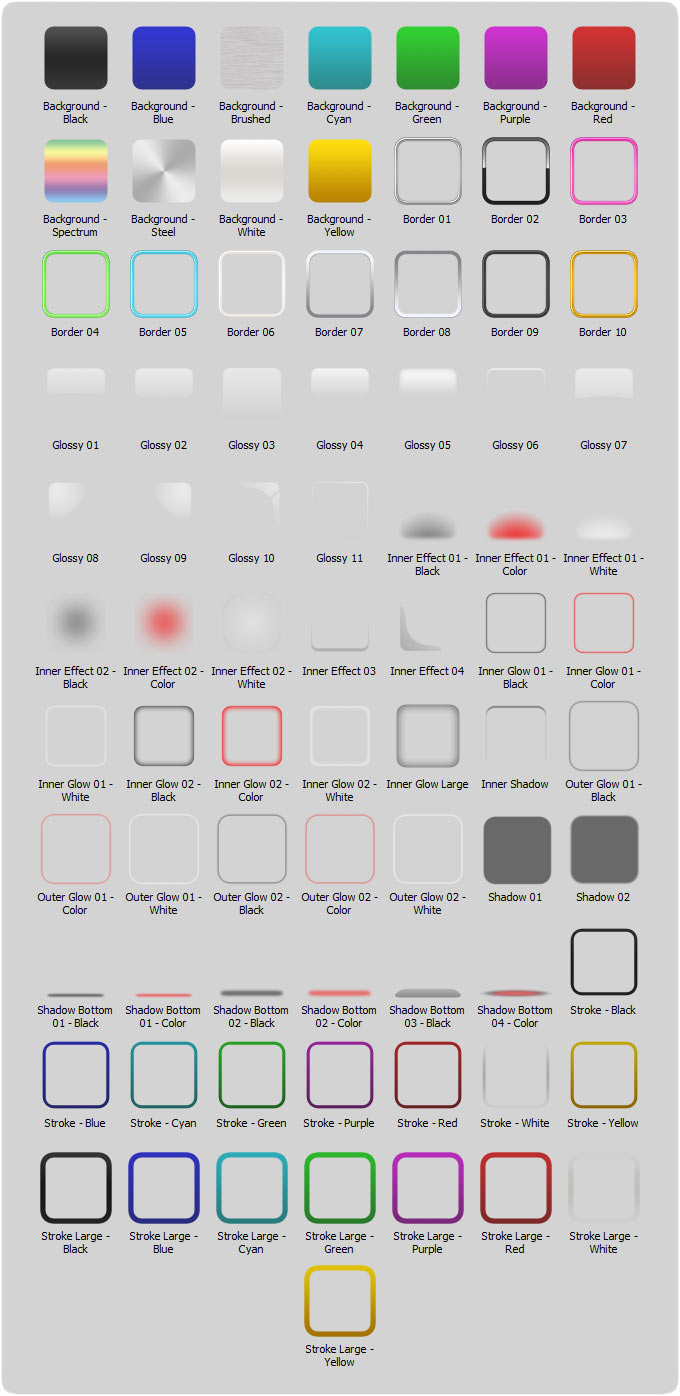 Triangle (78 Objects):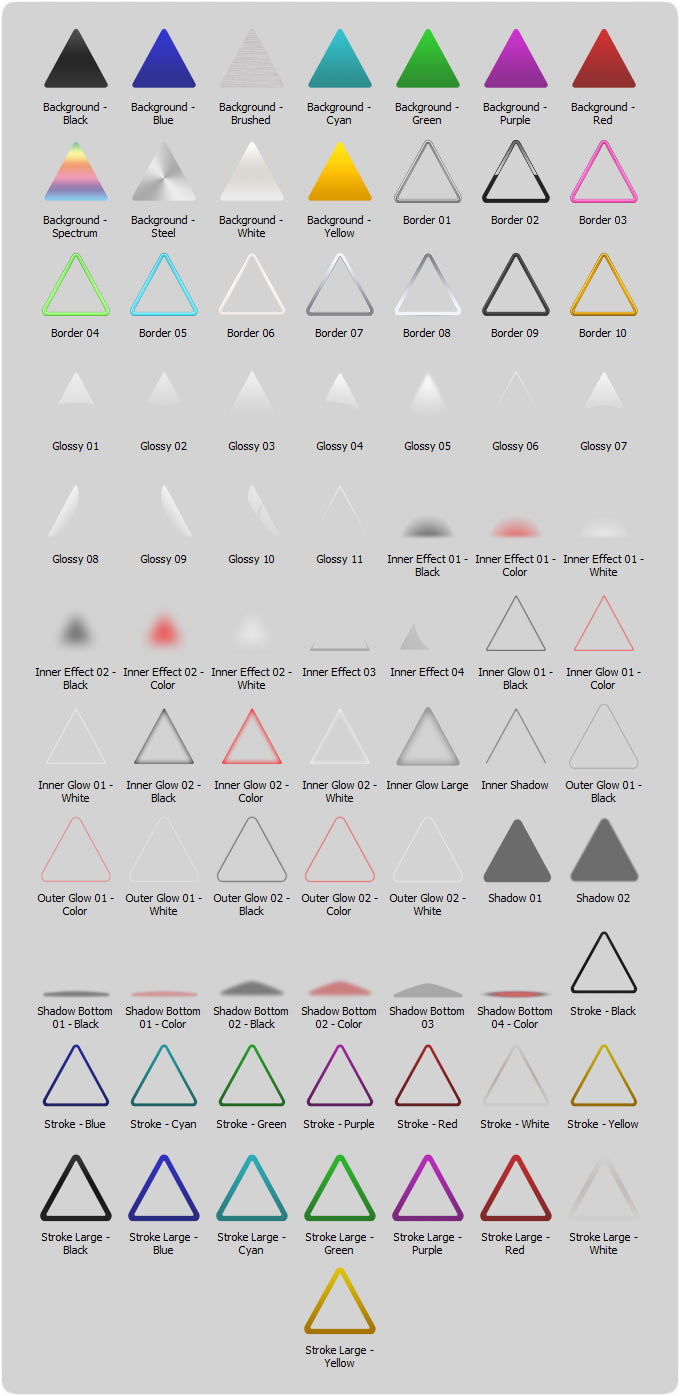 Ready-To-Use (33 Objects):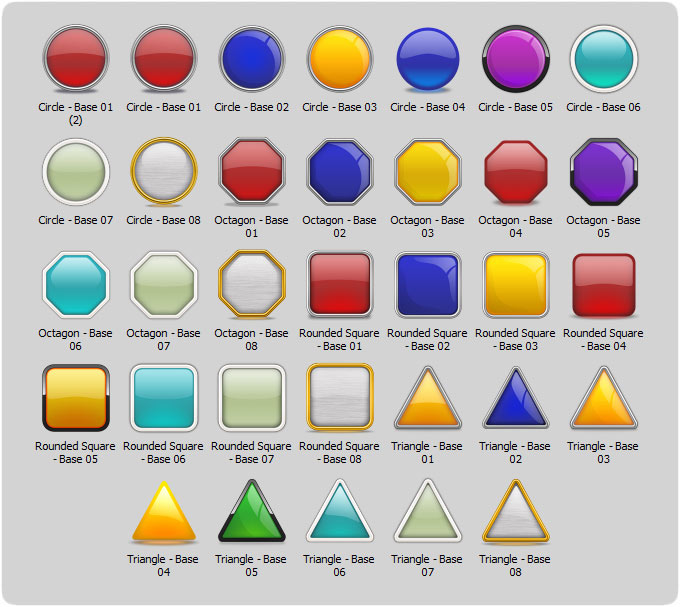 How to recreate the sample icons using the image objects?
The pack is provided with several sample icons created using IconWorkshop. Creation of these icons is really simple using Drag & Drop or Copy/Paste. To learn how to create icons using this object pack, read this article:
How to use Image Objects to create Icons?
If you want to practice with image objects, we recommend you to recreate the sample icons as described below:
1. Make sure the Librarian is displayed and the "Pack 2 - Realistic Buttons" folder is selected.
2. Create a new icon project (choose 256x256 RGB/A format)
3. Create each icon using the images specified below (First image to add is on top of list):
---

Down.png

Add the following images into your project:

1. Folder "Circle" - "Background - Green.png"

2. Folder "Circle" - "Inner Glow 02 - Black.png".

3. Folder "Circle" - "Border 01.png"

4. Folder "Symbols" - "Arrow - Down.png"

5. Folder "Circle" - "Glossy 04.png"

6. Folder "Circle" - "Shadow Bottom 01 - Black.png". Place the object in background (Press "End" key).

---

Info.png

Add the following images into your project:

1. Folder "Circle" - "Background - Blue.png"

2. Folder "Circle" - "Inner Effect 01 - Color.png". Only one red-coloured version of this effect image is provided, so you need to adjust the hue (tint) to match the desired color: Without deselecting the newly-added object, adjust Hue/Saturation (Press "U" key). Set "Hue" to -150.

3. Folder "Circle" - "Glossy 07.png"

4. Folder "Symbols/White Emboss " - "Info.png"

4. Folder "Circle" - "Shadow Bottom 04 - Color.png". Without deselecting the newly-added object, adjust Hue/Saturation (Press "U" key). Set "Hue" to -150. Place the object in background (Press "End" key).

---

Ok.png

Add the following images into your project:

1. Folder "Rounded Square" - "Background - Green.png". Adjust Brightness/Contrast (Press "B" key). Set "Brightness" to -15.

2. Folder "Rounded Square" - "Inner Effect 01 - Color.png". Without deselecting the newly-added object, adjust Hue/Saturation (Press "U" key). Set "Hue" to 110.

3. Folder "Rounded Square" - "Inner Glow 01 - Color.png". Without deselecting the newly-added object, adjust Hue/Saturation (Press "U" key). Set "Hue" to 110.

4. Folder "Rounded Square" - "Border 01.png"

5. Folder "Symbols" - "Ok.png". Center the object as desired using the mouse.

6. Folder "Rounded Square" - "Glossy 02.png". Select All (Press Ctrl+A). Using the arrow keys, move the selection 5 pixels up and 5 pixels left.

7. Folder "Rounded Square" - "Shadow 02.png". Place the object in background (Press "End" key).

---

Cancel.png

Add the following images into your project:

1. Folder "Circle" - "Background - Red.png"

2. Folder "Circle" - "Inner Glow 02 - Black.png"

3. Folder "Circle" - "Border - 01.png"

4. Folder "Symbols" - "Cancel.png"

5. Folder "Circle" - "Glossy 01.png". Select All (Press Ctrl+A). Using the arrow keys, move the selection 6 pixels up.

6. Folder "Circle" - "Shadow Bottom 01 - Black.png". Place the object in background (Press "End" key).

---

WarningLCD.png

Add the following images into your project:

1. Folder "Triangle" - "Background - White.png". Without deselecting the newly-added object, colorize the object by adjusting the global Hue/Saturation (Press "U" key). Select the "Colorize" option, set "Hue" to -90, set "Saturation" to -30, set "Brightness" to -20 .

2. Folder "Triangle" - "Inner Glow 01 - Black.png"

3. Folder "Triangle" - "Border 06.png"

4. Folder "Symbols/Black Emboss " - "Exclamation.png". Adjust the size of the object using the "resizing handles" in order to match the correct size (keep the "Shift" key pressed during resize to keep aspect ratio). Move the symbol in the center of the triangle.

5. Folder "Triangle" - "Glossy 10.png"

6. Folder "Triangle" - "Inner Effect 04.png"

7. Folder "Triangle" - "Outer Glow 01 - Black.png". Place the object in background (Press "End" key).

---
Enjoy... :)