Description
Axialis Object Pack #7 is composed of 423 objects which permit creating static and animated cursors for Windows. Using drag & drop, you can create attractive cursors by associating basic objects and action overlays. The style is clean and professional which make them suitable for commercial applications. .
The objects are provided in 256x256 and 128x128 PNG format with alpha channel. This high resolution permits to create cursors without quality loss in Axialis CursorWorkshop.
What is an object and how to create icons from objects?
The question is: "How to create attractive custom cursors without drawing skills?" Image Objects are the answer.
The solution is to use a set of image objects already done by skilled computer graphic artists, and assemble them together to create a final artwork that will match your needs. Using a set of existing image objects the possibilities are almost infinite. You can create many different cursors or graphics simply by adjusting various parameters of each object like Hue (teint), Saturation, Brightess, Contrast, Size, Opacity and more.
For example, using 4 objects from this object pack, you can easily create an attractive Web 2.0 arrow pointer:

To learn more about image objects and cursor creation, we recommend to read these topics:
How to use Image Objects to create Cursors?
How to download and install the Package?
The Image Objects are distributed in a self-install package. Just download the file by clicking the "Download Now" button. It is an executable file (EXE) so you may be prompted by Windows® or any other antivirus application to confirm the download and execution of the file. Click "YES".
Installing packages downloaded from Internet is potentially dangerous.

Install packages that you download on Internet may contain viruses. However your security is our priority and all our files are digitally signed and periodically tested against all known viruses. Also, if you have an Antivirus software installed, the file will be automatically checked before it is launched.
When downloaded, launch the installation and follow the procedure. When done, the objects are installed in the "Axialis Librarian" folder. If an associated application is installed it is launched.
Contents of the pack
Below are listed all the objects included in the pack. Some objects are available in various colors, others in one color only. It's not a problem since an unlimited variety of color versions can be created for each object by its adjusting Hue/Saturation. You can even create your own object versions.
Objects are drawn on a gray background to show the various lightning effects available (which would not be visible on a white background).
Animated Objects (each object contains 6, 9, 12, 18 or 24)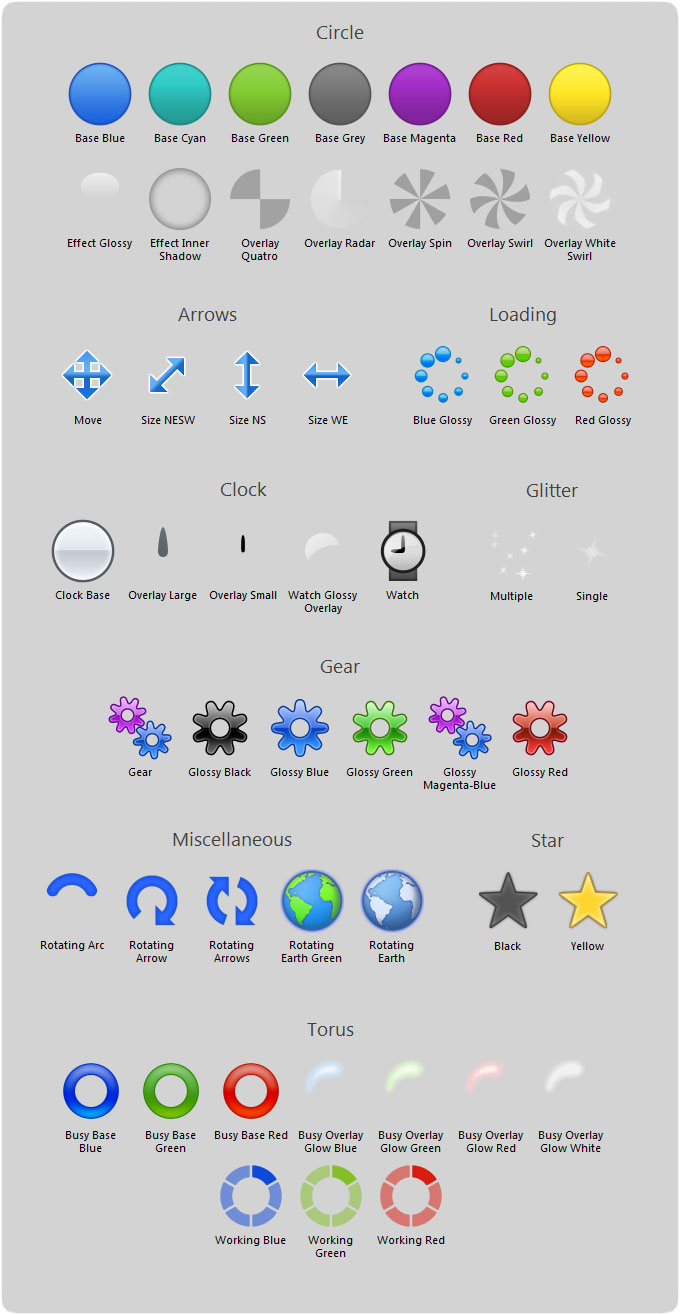 Pointer Objects (Cross collection have additional effects)

Static Objects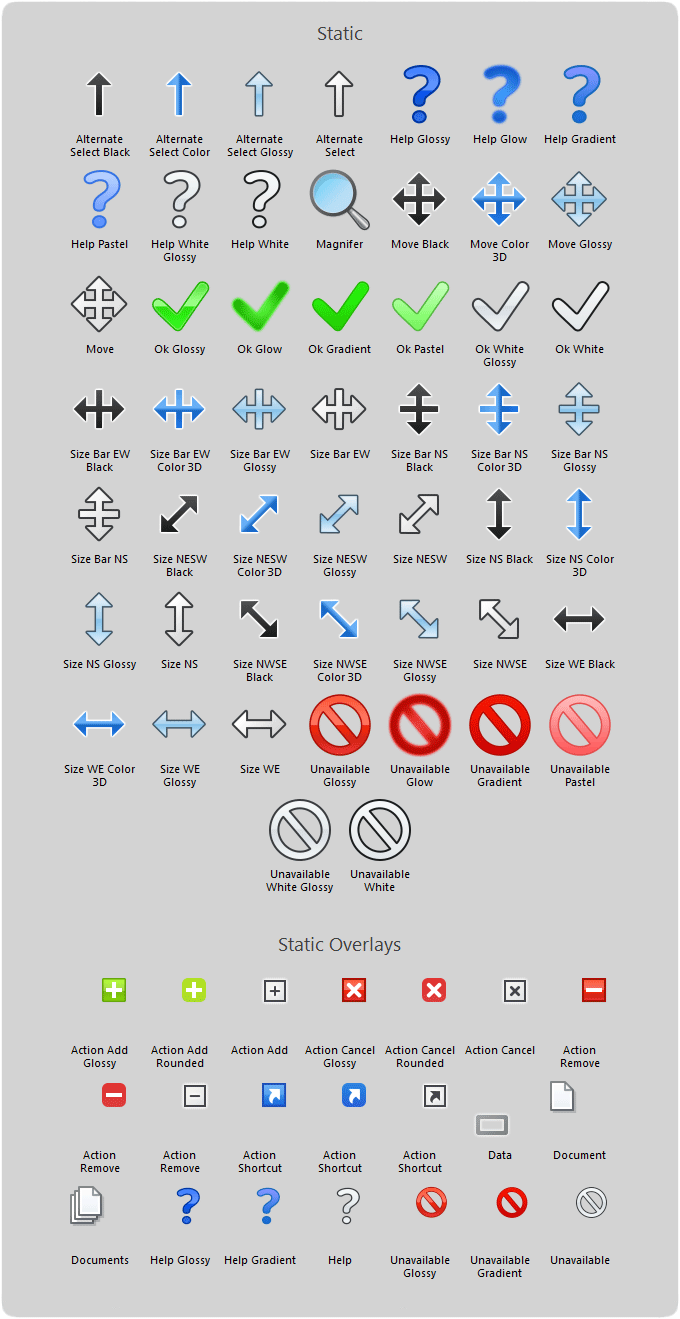 Ready-to-use Themes (various static and animated objects)