Do I have a product key?
Products keys are numerical strings which have the following format: 12345678-12345-12345-12345-12345.
Not all Axialis products are provided with a product key. If you have one of the following product, you have a product key:
• Axialis IconWorkshop 5.0 or +
• Axialis CursorWorkshop 6.3 or +
• Axialis Professional Screen Saver Producer 3.6 or +
Why a product key?
This is used by us to authenticate your product as an original purchase. This key is required to get some services (now and in the future) from Axialis. For example, actually you need your product key to upgrade online.
DO NOT share your key with anyone. If sharing is detected on our server your key will be invalidated and you won't be able to access Axialis services.
In the future, all products will use a product key. If you actually use a product like AX-Cursors, MediaBrowser or AX-CDPlayer, you'll receive a key with next update.
How to retrieve my product key?
The easiest way to retrieve your product key is to open your Axialis product and choose the menu Help/About. A dialog box opens: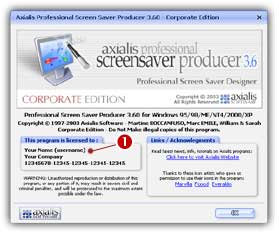 In the License area (

), you'll find your product key (at the bottom of the box).
I've lost my product. How to proceed?
The product key is included in the registration database. You can therefore retrieve it by accessing your account online. To login to your account, visit this page. You'll need your username and password to login. If you've lost your username, click here.
If you failed with this procedure, contact us specifying information about you and your purchase (order#, email, name, address, approx date...).