I want to access my customer account, what's my username?
The easiest way to retrieve your username is to open your Axialis product and choose the menu Help/About. A dialog box opens: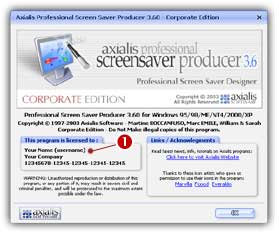 In the License area (

), you'll find your name and your username in parenthesis. You'll also find your product key below (if your version needs a product key).
I've lost everything including the product. How to proceed?
Visit this page and choose the first option "using your email". Enter the Email you specified in your account. If it exists in our database, your login information (username, password) will be sent at this email.
If you failed with this procedure or if the email no longer exists, contact us specifying information about you and your purchase (order#, email, name, address, approx date...).
I can't recall my password. How to proceed?
First, you need either your username (see above), the email you specified when you created your account or your product key. Then, visit this page to retrieve your data including your password (more info on the page).
How to verify that my account is valid?
You just have to login to your account from this page. You need your username and password to login.